Do you know someone who is a ball of energy who is in P2-M1? If so, then Word of Life has an event just for you, Olympian Games held on Warwick Academy Field. Olympian Games is ALL-DAY in the middle of May, where children can partake in numerous games such as life size Plinko, challenging obstacle courses and even a wild safari race.
This event is run by volunteers and dedicated staff who manage these games until 12 and then the real excitement takes place. At 12pm the games are shut down and all those who participated hear an amazing gospel presentation.
Then the day ends with sporting competitions where children can receive prizes for the races they are in. They compete against other Olympian Clubs in head to head events and at the end the Club with the most points wins the trophy.
Olympian Games encourages the youth of Bermuda to invite their friends to have fun and hear how much Jesus loves them. For more information, or a list of Olympian Clubs island wide and how your ball of energy can attend click here….
Saturday, May 16th, from 9:45am to 4pm at Warwick Academy Field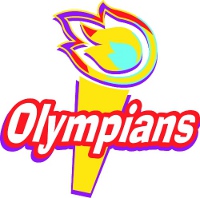 Olympian Games is a full day of over 20 fun games with a children's Bible message for ages 6 to 11 (P2 through M1). Cost is only $10/child. This is an ideal event for your Sunday school or children's program. The idea is for your children to invite their friends to come with them to Olympian Games and hear the Gospel while having an incredible day of fun.